proxxon
now browsing by category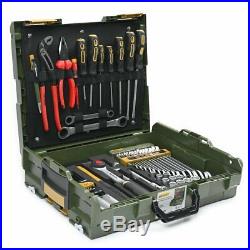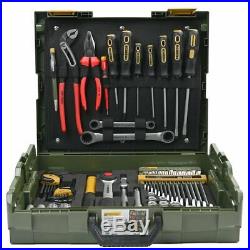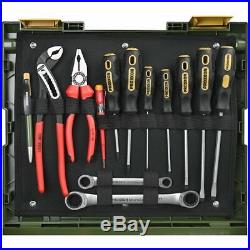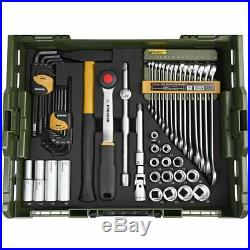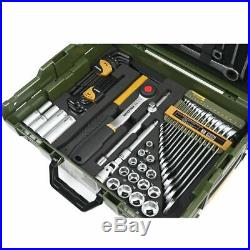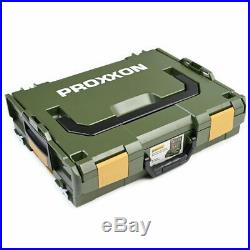 Das L-BOXX-System: Ordnung und Sicherheit im Handwerk für Aufbewahrung und Transport. 69 hochkarättige Werkzeuge griffbereit plaziert! Ordentlich, schnell und problemlos aufbewahren, crashsicher transportieren. Kompatibel mit zahlreichen Fahrzeugeinrichtungen namhafter Hersteller. Außenmaße: 445 x 358 x 118 mm. Werkzeugtafel und Schaumstoffeinlage aus hochwertigen Materialien. 14 Steckschlüsseleinsätze 1/2 (12,5 mm) 8 – 24 mm. Verlängerungen 125 und 250 mm. 4 Tiefbett-Steckschlüsseleinsätze 10 – 19 mm. 15 SlimLine-Ring-Maulschlüssel 6 – 21 mm. MicroSpeeder-Ratschenschlüssel 10 x 13 und 17 x 19 mm. 5 Schlitz-Schraubendreher 3 – 6,5 mm, Kreuzschlitz PH 1 und 2. Winkelschlüsselsätze HX und TX (je 9-teilig). KNIPEX-Kombizange 180 mm und KNIPEX-Wasserpumpenzange 250 mm. Schlosserhammer (300 g) mit Graphitstiel. Der Versand erfolgt in Abhängigkeit vom Gewicht der Bestellung zu den im Angebot angegebenen Kosten per Spedition oder Paketdienst. Packstation: Der Versand an Packstationen erfolgt in jedem Fall per DHL. Gemäß den Bedingungen von DHL ist ein Versand an Packstationen an bestimmte Paketmaße gebunden. Sollten Sie die Lieferung an eine Packstation wünschen, die Maße des Paketes dies aber nicht zulassen, setzen wir uns vor dem Versand mit Ihnen in Verbindung. Überweisung : Die für Überweisungen benötigten Bankdaten und den Verwendungszweck erhalten Sie über die Kaufabwicklung. Umsatzsteuerfreie Lieferungen ins EU-Ausland bieten wir nicht an. Da in unseren Rechnungen die Umsatzsteuer ordnungsgemäß ausgewiesen wird, können Sie sich als gewerblicher Kunde die bei uns bezahlte Umsatzsteuer i. Von Ihrem Finanzamt erstatten lassen. ElektroG – Gesetz über das Inverkehrbringen, die Rücknahme und die umweltverträgliche Entsorgung von Elektro- und Elektronikgeräten. Hinweistext zur Information gegenüber privaten Haushalten §9 Abs. Gebrauchte Elektro-und Elektronikgeräte dürfen gemäß europäischer Vorgaben Richtlinie 2002/96/EG des Europäischen Parlaments und des Rates vom 27. Januar 2003 über Elektro-und Elektronik-Altgeräte nicht mehr zum unsortierten Siedlungsabfall gegeben werden. Elektro- und Elektronikgeräte dürfen nicht über den Hausmüll entsorgt werden. Das Symbol der Abfalltonne auf Rädern weist auf die Notwendigkeit der getrennten Sammlung hin. Verbraucher können ihre Elektro-Altgeräte kostenlos bei einer der kommunalen Sammelstellen abgeben. Der Kunde ist eigens dafür verantwortlich, dass personenbezogene Daten auf den zu entsorgenden Altgeräten gelöscht werden. Batterien und Akkus dürfen nicht über den Hausmüll entsorgt werden. Sie können Batterien und Akkus zurückgeben: – bei einer öffentlichen Sammelstelle – dort, wo Batterien und Akkus verkauft werden – auf dem Postwege an unser Versandlager. Die auf den Batterien abgebildeten Symbole haben folgende Bedeutung: – Das Symbol der durchgekreuzten Mülltonne bedeutet, dass die Batterie nicht in den Hausmüll gegeben werden darf. Pb = Batterie enthält mehr als 0,004 Masseprozent Blei – Cd = Batterie enthält mehr als 0,002 Masseprozent Cadmium – Hg = Batterie enthält mehr als 0,0005 Masseprozent Quecksilber. Seit mittlerweile 30 Jahren können wir uns in einem schnelllebigen und anspruchsvollen Markt behaupten, was sicherlich an der Breite unseres Programms und der ausgesuchten Qualität unserer Produktpalette liegt. Unser täglicher Versand per DHL, GLS und Spedition sichert die schnelle Verfügbarkeit. Unsere Zielgruppe sind KFZ-Werkstätten und Industriebetriebe, genau wie Hobbyschrauber mit professionellem Anspruch. Jeder, der Wert auf gutes Werkzeug legt, wird bei uns das Richtige finden. An unserem Standort in Aachen vertreiben wir neben unserem Shop-Programm auch Technische Gase. Sie finden bei uns u. Das komplette Programm der Marken Hazet, Gedore, Gedore Red, Knipex, Proxxon, Stahlwille, BGS, Gys, Facom, Migatronic, Compac. Das Team von TBS Aachen wünscht Ihnen viel Spaß beim Einkaufen. Do you have questions? Proxxon 23660 Craftsman's universal tool set. Electrical & Battery Act. Proxxon Industrial 23660 Craftsman's universal tool set. Organisation and safety in storage and transport for professional craftsmen thanks to the L-BOXX-system. 14 sockets 1/2 (12.5mm) 8 – 24mm. Extensions 125 and 250mm. 4 deep sockets 10 – 19mm. 15 SlimLine combination spanners 6 – 21mm. MicroSpeeder ratchet spanners 10×13 and 17x19mm. 5 slot screwdrivers 3 – 6.5mm, Phillips PH 1 and PH 2. Pocket key sets HX and TX (9-piece each). KNIPEX combination pliers 180mm and KNIPEX water pump pliers 250mm. Ball-peen hammer (300g) with graphite handle. Store neatly, quickly and smoothly and transport safely. Compatible with numerous in-vehicleequipment- systems of well-known brands. Outer dimensions: 445 x 358 x 118mm. Tool panel pouch and foam inlay made of high quality materials. We do not offer VAT-free deliveries to EU countries outside of Germany. Electrical and Electronic Equipment Act. Electrical and electronic devices may not be disposed of with household waste. Consumers can return their electrical equipment free of charge at one of the communal collection points. All batteries are marked with the symbol of the crossed out wheelie bin. Batteries and accumulators must not be disposed of with household waste. For over 30 years now we have been able to operate successfully in a fast-pace and sophisticated market. That can certainly be attributed to the scale of our program and the exceptional quality of our product line. We target automobile workshops, industrial establishments and hobby mechanics with professional ambitions. In short, everyone who values quality tools, can be sure to find them with us. We offer the complete product lines of brands such as Hazet, Gedore, Gedore Red, Knipex, Proxxon, Stahlwille, BGS, Gys, Facom, Migatronic, Compac. We hope that you enjoy shopping at TBS Aachen. The item "Proxxon 23660 Handwerker-Universal-Werkzeugkoffer" is in sale since Friday, June 29, 2018. This item is in the category "Heimwerker\Werkzeuge\Elektrowerkzeug- & Druckluftgerät-Zubehör\Oszillierendes Multifunktionswerkzeug-Zubehör". The seller is "tbs-aachen" and is located in Aachen, NRW. This item can be shipped worldwide.
Marke: Proxxon
Herstellernummer: 23660
Produktart: Werkzeug-Set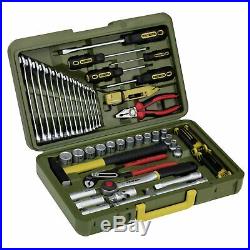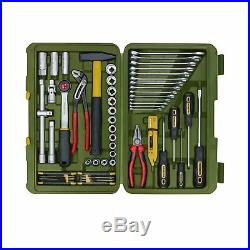 Bei uns kaufen alle! Vom Industriekunden und Handwerker, bis zum Heimwerker! Direkter Draht zu uns. Proxxon Industrial Universal Werkzeugkoffer 47-teilig 23650 Steckschlüssel. Vorschau-Bild anklicken für größere Ansicht. Ihre Vorteile als Kunde von CBdirekt. 15 Jahre Erfahrung im Online-Handel. Schnelle Bestellabwicklung und Lieferung. Weltweiter Versand mit DHL oder UPS. Lieferung auch an DHL Packstation! Newsletter-Info zu Aktionen und Angeboten. Mit hochkarätigem Werkzeug sinnvoll bestückt. Je 1 Stück in Größe 6 bis 19 mm. (Neu: 16 & 18). Je 1 Schlitz-Schraubendreher Größe 8,0 x 1,2 – 5,5 x 1,0 und 3,0 x 0,5 mm. Kreuzschlitz-Schrauber PH 1 und 2. Autolichtprüfer mit Kabel und Krokoklemme (nur für Kfz-Elektrik). 14 Steckschlüssel-Einsätze in Größe. 8 – 10. 12 – 13 – 14 – 15. 19 – 22 und 24 mm. Je 1 Verlängerung 125 und 250 mm. Verlängerung 250 mm inkl. Mit Gleitstück und 1/2-Vierkant zum Einsatz. Als T-Griff für Radmuttern. Zündkerzen-Spezialeinsatz für 16. Pocket- Schlüsselsatz für Innensechskantschrauben (8-teilig) von 1,5 – 8,0 mm. Pocket- Schlüsselsatz für TORX-Schrauben (8-teilig) von TX 9 – 40. PROXXON Schlosserhammer (300 g), allseitig geschliffen und teilpoliert. Mit unlösbarem Graphitstiel glasfaserverstärkt, rutschfeste Weichkomponente. Im Griffbereich für unübertroffene Vibrationsdämpfung. Jedes Teil hat seinen festen Platz im praktischen Kunststoffkoffer. Nicht der Artikel, den Sie gesucht haben? Wir führen fast alle namhaften Hersteller in den Bereichen. Wir freuen uns auf Ihre Anfrage! Ob wir auch auf Facebook, Twitter, Google+, Youtube, Instagram, Reddit, Tumblr oder Pinterest vertreten sind, und ob wir auch eine eigene Website haben, werden Sie hier nicht erfahren. Unterstützung und Beratung telefonisch: Mo-Fr. Reklamationen / Defekte Ware. MAGLITE / UK LAMPEN. REV / MINIMAX MELDER. SONAX / KFZ & HAUSHALT. SYSTAINER / KOFFER / TASCHEN. Versandkosten, wenn nicht anders beschrieben. The item "Proxxon Industrial Universal Werkzeugkoffer 47-teilig 23650 Steckschlüssel" is in sale since Sunday, August 31, 2014. This item is in the category "Heimwerker\Werkstattausrüstung\Werkzeugkoffer & Lagersysteme\Werkzeugkoffer". The seller is "chbaki" and is located in Kitzingen. This item can be shipped worldwide.
Marke: PROXXON
Herstellernummer: 23650
Farbe: Grün
Maßeinheit: Einheit
Besonderheiten: Stapelbar
Material: Kunststoff
Produktart: Werkzeugkoffer
Modifikationsbeschreibung: KAYSER GmbH
MPN: 23650